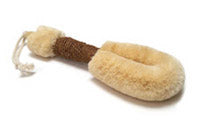 Natural Fiber Body Massage Brushes
$24.00 USD
Use as a scrubbing brush in the bath or shower, or as a dry brush before or after the bath. To use as a dry brush, use circular motions, starting at your feet and move over the entire body - always brush toward your heart with light pressure. Gradually increase pressure as you build your daily brushing routine.
Two sizes come with sisal bristles: large is 12" long, including handle; small is 9" including handle. Natural handles - cord on large & small.
The "mini" has coconut fibers with a wooden handle, and is approx 6 1/2" long.