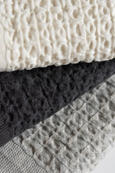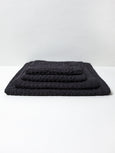 Kontex Lattice Towels - Cotton/Linen Blend
$99.00 USD
Our Lattice towels are now available in a beautiful linen & cotton blend. They also have a unique waffle-like texture - but may be even softer to the touch, lighter weight, more highly absorbent and still as fast drying.
Off-white or charcoal grey (new!), made in Imabari, Japan.
70% Cotton, 15% linen, 15% ramie (a vegetable fiber)

Bath Towel is 25 1/2" x 45"

Hand Towel is 15" x 33 1/2"

Washcloth is 15" x 15 3/4"

Extra Large Bath Sheet: 31 1/2" x 55"

Machine Wash
Also available in 100% cotton: click here.